First weekend back in LA after escaping from a floating prison in the south Atlantic was spent sitting on my ass as we've entered the most awesome time of the year for football fans. I live and die baseball, but you really can't beat the NFL's one and done playoff system where your fortunes can change in a matter of seconds. I made the "mistake" of watching only the Saturday games (aka the games that went down exactly as planned) and skipped both of Sunday's stunning,
tear-stained
upsets. Thanks to those wily Chargers we as a nation will be spared the latest over-hyped Colts vs. Pats game which CBS is kicking itself over but every Patriot fan alive is secretly thrilled about (we all know they only barely squeaked by back in November).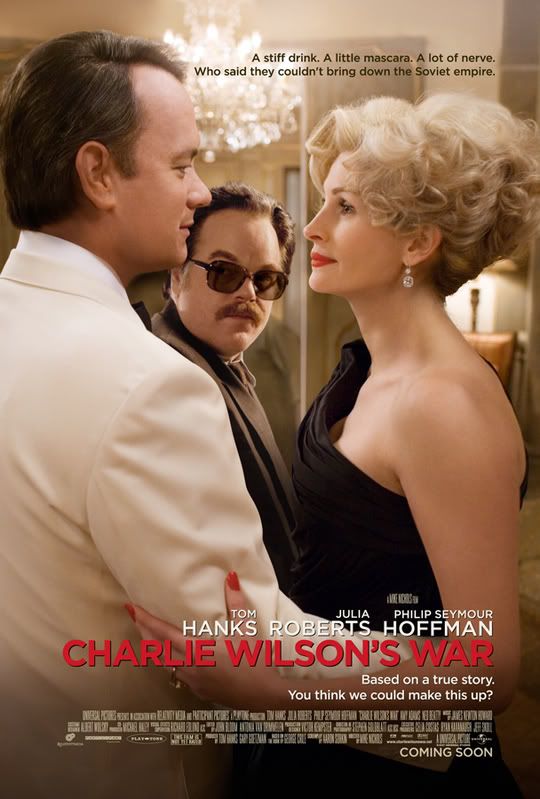 But no one reads this thing for sports talk. I watched a couple of films this weekend that were pretty low on my radar that I loved to varying degrees in spite of mounting evidence that they would fall into the "meh" category. Of most immediate concern is
Charlie Wilson's War
which was one of 19 films released on Christmas that I'm only just now getting around to and has already been chewed on and half digested by everyone of note. Going in, I knew how "horribly miscast" Julia Roberts would be and how "de-balled" the film was by not delivering viewers at the doorstep of 9/11 and how slight the film was because of it. And the truth is, all of the above is true to a point, but that doesn't begin to get at all the great stuff that the film is as well. Namely how smart and funny and proudly R rated and (for the most part) unwilling to pander
Charlie Wilson's War
is. This is a film about a bunch of people who like to drink and fuck and say really clever, biting things in-between funnel a billion dollars to a volatile, fundamentalist, Third World Country because they want to kill Russians as much as we did.
If we're looking just at recent films, this most reminded me of Spielberg's
Catch Me if you Can
(which, for the record I liked way more than most people) in that it's essentially taking a serious issue and viewing it as a frothy good time floating above the surface of something horrible that's destined to bubble to the top. Wilson and company no doubt viewed their actions as altruistic but the spirit of the film is one of a con-game; maneuvering on the sly and often in amazement at what you can accomplish simply through manipulating humans organs of all shapes and geographies and a healthy amount of bullshit.
I rarely have nice things to say about Mike Nichols as a director but he really is the perfect filmmaker for this material, treating major world events as though it were a sex farce fueled on recreational drug use and slipstream of booze. There's an arrogance to the characters and a terminal short-sightedness to their dabbling in world events that comes across as an implicit criticism the more aware we are of what's to come. The more the film presents Wilson as a kid playing with an ant farm, arming angry young Muslim men with RPG's without pausing to think about what they'll be doing with that training and weapons once their done shooting down Ruskie helicopters, the more sickening the noose tightening around your neck feels.
In fact, if there's a critical error made on the film's part it's not the exclusion of the original script's now infamous "9/11 ending," it's that it tries to create audience empathy in Wilson late in the film's third act by forcing the character to address the after-effects of his actions. Embarrassing, bordering on didactic scenes of Wilson pleading with his supervisors for a measly million dollars (versus the half a billion they'd spent on weapons) to rebuild schools in Afghanistan only to be summarily turned down. Scenes of Wilson sitting alone in his apartment with tear stained eyes, quietly pondering what's come of his life. The film places the brunt of awareness on Wilson's shoulders, as though only he's conscious of what he's truly done and is helpless to fix it while the world showers him with praise. It's cheap moralizing that arrives far too late that only weakens the film's argument. By giving us a mirco-realization it undermines the idea that these people were dabbling with governments and ideologies they had no real understanding of only to be left completely blindsided at the blowback that came their way decades later as a result.
Still I really do have to tip my hat at what the film has done, and specifically to Aaron Sorkin, who I'd left for irrelevant after his "Studio 60" car wreck. The film is essentially the cynical, mirrored version of "The West Wing" crossed with a 1930's screwball comedy that involves spitting out a lot of politico-speak and war machine jargon that never gets bogged down. Roberts is far too frigid and young to play the part of a billionaire, born again cougar (Burns put the idea of Susan Sarandon in my head but for some reason I kept thinking of Marcia Gay Harden during the film) but she's essentially a footnote to the Hanks and Hoffman show. Hanks seems to be taking this opportunity to play Dean Martin, as he was once supposed to have in the long defunct Rat Pack film Scorsese was planning a decade back and its glorious watching him smirk, grope and spin as he leaves the over-reported but not really accurate image of Saint Tom in his dust. But really, this is the Philip Seymour Hoffman show. Fat, unshaven, foul-mouthed, ill-behaved and with a cigarette hanging from his lip, Hoffman's CIA agent Gust Avrakotos is such an awesome movie character I spent half the afternoon trying to think of other films that would have been improved if he were in them (how much better would
American Gangster
had been if it were Gust chasing down Frank Lucas instead of boring old Russell Crowe in a Dorothy Hamill wig?)

Charlie Wilson's War
is such a remarkable film because it's a bit of a Rorschach test for audiences. As a time-killer for 100 minutes, the film is bracingly funny, understated and really clever; an old-fashion "movie star film" that goes down like Kentucky bourbon. At the same time it's laying out the groundwork for the most prolonged armed combat since Vietnam (and the clock's still ticking) as well as the cavalier attitude that lead to it. The film doesn't have to beat us over the head with present day events for its thesis to come through loud and clear any more than M*A*S*H or Apocalypse Now did. And for the record, I'm really happy that the film is quietly finding an audience after a slow opening. One of the few films currently in theaters that I'd feel comfortable recommending to, really, anyone.
**
If
Charlie Wilson's War
was a pleasant surprise than Mathew Vaughn's
Stardust
was pretty much a stunner. I had no expectations (read: zero) for this film. It somehow made its way to the top of my Netflix que while I was away from my computer for a week, but aside from the off-hand "it's not bad" I heard from the handful of people who went to see it last summer, the biggest factor weighing in on the film was that it was Harry Knowles' favorite movie of the year (and that aint much of an endorsement where I come from). So imagine my shock at how completely wonderful the film is. Pretend
The Princess Bride
wasn't directed by a visually inept Rob Reiner on the back of a studio lot in 90-minutes of medium close up or written by William Goldman wearing out his arm from patting himself on the back and you get a sense of how bizarre and special Stardust is.
I was pretty indifferent to Vaughn's
Layer Cake
which belonged squarely in the "please let it die" genre of the British criminal underworld flick, but I can no longer deny that there's a sizable gulf between him and his former cohort Guy Ritchie. To the point, the film's charming as a motherfucker, existing in the realm of storybook logic without ever becoming overly precious or whimsical. The film keeps jutting off in weird, unexpected directions that I suspect originated in Neil Gaiman's book that Vaughn rolls with without missing a beat. The narrative is fairly simple yet, like all good fairy tales, it finds room for digression in traveling off the well trodden path.
The film is heavy on cgi but its greatest effect is the radiance given off (literally at times) by Claire Danes as the human personification of a fallen star. Danes is one of those actresses who never lived up to her early promise, often coming across as wooden and too self-aware to ever give herself over to a part. Yet Vaughn has coaxed out of her her most natural and open performance on film yet. We don't need a digital assist to watch the actress glow. Despite saddling her with distracting bleached-eyebrows, Vaughn makes extraordinary use of Danes face, which has never been quite this expressive before. The actress sells every peculiar moment of the film with a disarming mixture of weariness and naiveté as though she should know better than to let herself fall in love but is helpless to fight it. It's really difficult not to fall hard for the character.
Meanwhile how great a year is Michelle Pfeiffer having? Between this and
Hairspray
I'm starting to think she should play aging villainesses for the rest of her career. She seems to be having a grand old time letting herself aging horrifically on-screen (in marked contrast to the plastic surgery she's supposedly had in real life) that would almost qualify as bravery.
There's some queasy sexual politics in the film that I suppose are inherent to the type of story that it is, but what struck me the most about the film is its generosity and affection towards its characters. The way Robert DeNiro's fey (although not explicitly gay), cross-dressing pirate is embraced by his crew after being outed, or the ever-growing assemblage of dead princes who serve as the film's Greek chorus, cheerfully commenting on the world of the living behind disfigured visages. How every supporting part no matter how small the part, seems to be fully conceived and inhabiting this world. And, without giving anything away, there's something really heartwarming and hopeful without becoming sappy about the implications of the film's final shot that takes a really refreshing spin on what's kind of a romantic mainstay. If I were to actually publish a year end ten best list (which I won't) I don't think I could keep this film off of it.
**
God, that was a fucking slog to write. You see why I mostly stick to negativity?