We're a little more than a month away from our May 25th release, which strikes me as both an incredibly long time away and at the same time nowhere near enough time for all the work we have left to do. We just scheduled our premiere screening and after party at the Palms Hotel & Casino in Vegas, which historically has treated me very well. We'll be screening at the Brenden Theater located in the original Palms and then moving across the street to tower two (aka the one with the giant Playboy logo) and partying at club Moon, where apparently the gimmick is the roof opens up.
Of course, I only get to spend a day in Vegas and it comes sandwiched in-between a week in New York City, so not only will I be suffering from jet-lag and a rampant hang-over but culture shock as well (and God help me if it's cold in New York to boot).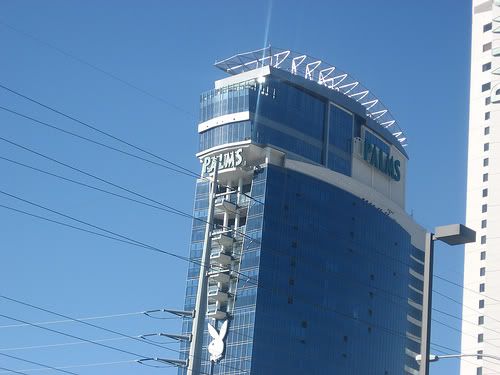 The hope is to attract a ton of celebs to the Palms for our premiere, specifically a certain "Ugly Betty" star who's been really supportive of the film so far, but I fear we may be pushing our luck with.
We've only just signed the paperwork making the release "official" with planned releases in six cities (not including Los Angeles which is definitely going to happen but the date and location is still being worked out) plus another handful of cities we're booking independently. We're hampered by the fact that we've yet to make a 35mm print of the film as most theaters don't have the hardware to project digitally, and the ones that do are using them to show Spider-Man 3, Pirates of the Caribbean 3 and Shrek 3, but it would cost close to $40,000 to have strike a print and we just can't afford it at this late date.
At the moment our release schedule goes something like this:
May 25 2007 The Quad New York NY
Jun 1 2007 Opera Plaza San Francisco CA
Jun 1 2007 Varsity Theater Seattle WA
Jun 8 2007 Kendall Theater Boston MA
Jun 8 2007 TBA (either the Sunset 5 of the new Westside Film Center
Los Angeles CA
Jun 15 2007 Century Center Cinema Chicago IL
Jun 15 2007 Lagoon Cinema Minneapolis MN
Jun 22 2007 Plaza Frontenac Cinema St. Louis MO
There's also been serious discussion of opening in Las Vegas, Tempe, San Jose, Dallas, Austin and Pittsburgh. Not exactly a monster, 3000 screen roll-out but it's starting to feel as though we're giving most major cities at least a chance to embrace the film.
The mad dash over the next week or so will be to run off about 50 prints of the film's trailer (which I recently saw projected and it looks glorious) and get the website up and running. I've been working closely with our web designer and we seem to be on the same page, it's just a case of whether or not it will be done in time to make a difference.
This release schedule should see me traveling to half a dozen cities in so many weeks, which is sure to be chaotic but I always have a good time on the road (it's so much easier to flirt when you know you'll probably never see someone again). Plus I should have my new MacBook laptop with me so I should have some semblance of normality whilst I'm away from L.A.
Mostly though I just want this chapter of my life to end. I've been living with this film for a little over three years now and almost everyone involved with it has moved on (some more successfully than others…) while myself and my producing partner Ryan have been left keeping the rickety vessel afloat. I don't expect much from this perfunctory theatrical release other than the sense of finality that it will declare. I can only hope the string of bad luck that slapped us in the face at Sundance will clear by the time we begin screening for critics (pity Ebert appears to be down for the count).
I'll have more as we get closer to the end of May.